Cheam Common Junior Academy opened on 1 January 2016, joining LEO Academy Trust as a sponsored academy.
By 2017, Cheam Common Junior Academy pupils were performing above the national average for progress in Reading & Writing (2.6 & 1.95) and well above in Maths (4.18) at end of KS2.
The quality of teaching, leadership & management and the achievement of pupils were all inadequate. The school was placed in the lowest 10% of all schools nationally for progress at KS2.
A curriculum, enriched through music, the arts, sport and technology, was key to the transformation at the school.
In Autumn 2018, it was confirmed the school was now in the top 3% of all schools nationally for progress at KS2.
The same term an Ofsted inspection confirmed Cheam Common Junior Academy was 'a good school' with Leadership & Management graded 'outstanding'.
Performance at KS2 was again exceptional in 2019: 86% reached the expected standard in reading, writing & maths combined, with 30% at greater depth. Progress scores were equally impressive with reading at 2.48, writing 3.25 and maths at 5.63.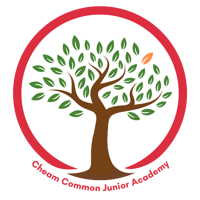 Cheam Common Junior Academy
Address

Kingsmead Ave, Worcester Park KT4 8UT